In, what I assume to be, an effort to make summer come sooner, Colby surprised me with an ice cream maker a few weeks ago. I couldn't wait to dive into this cookbook. We have had some samples of these recipes made by friends over the years so I was confident it was a winner. I have seen pints of Jeni's Ice Cream in the market near our house and was dying to try it, but couldn't bring myself to spend $12 on it. I figured owning the cookbook was the next best thing. We went through the book multiple times trying to narrow down our first pick. I wanted to make the Savannah Buttermint, but found butter flavoring a little hard to track down in the stores around the area. So, that one will have to wait. For our first one, we chose The Milkiest Chocolate Ice Cream in the World.
I have never used an ice cream maker before. For some reason, I found it a little intimidating. I grew up on homemade chocolate ice cream, hand-churned with rock salt at family dinners in the summer, and it always seemed to be pretty time consuming and tedious. But this recipe was actually pretty simple. And, using the machine turned out to be the easiest part. The milk chocolate ice cream turned out to be incredibly delicious and certainly lived up to its name. It was so rich and creamy. I can only imagine what the other flavors will be like. Basically, I feel like a whole new world has been opened up to me and I can't wait to try out some new recipes.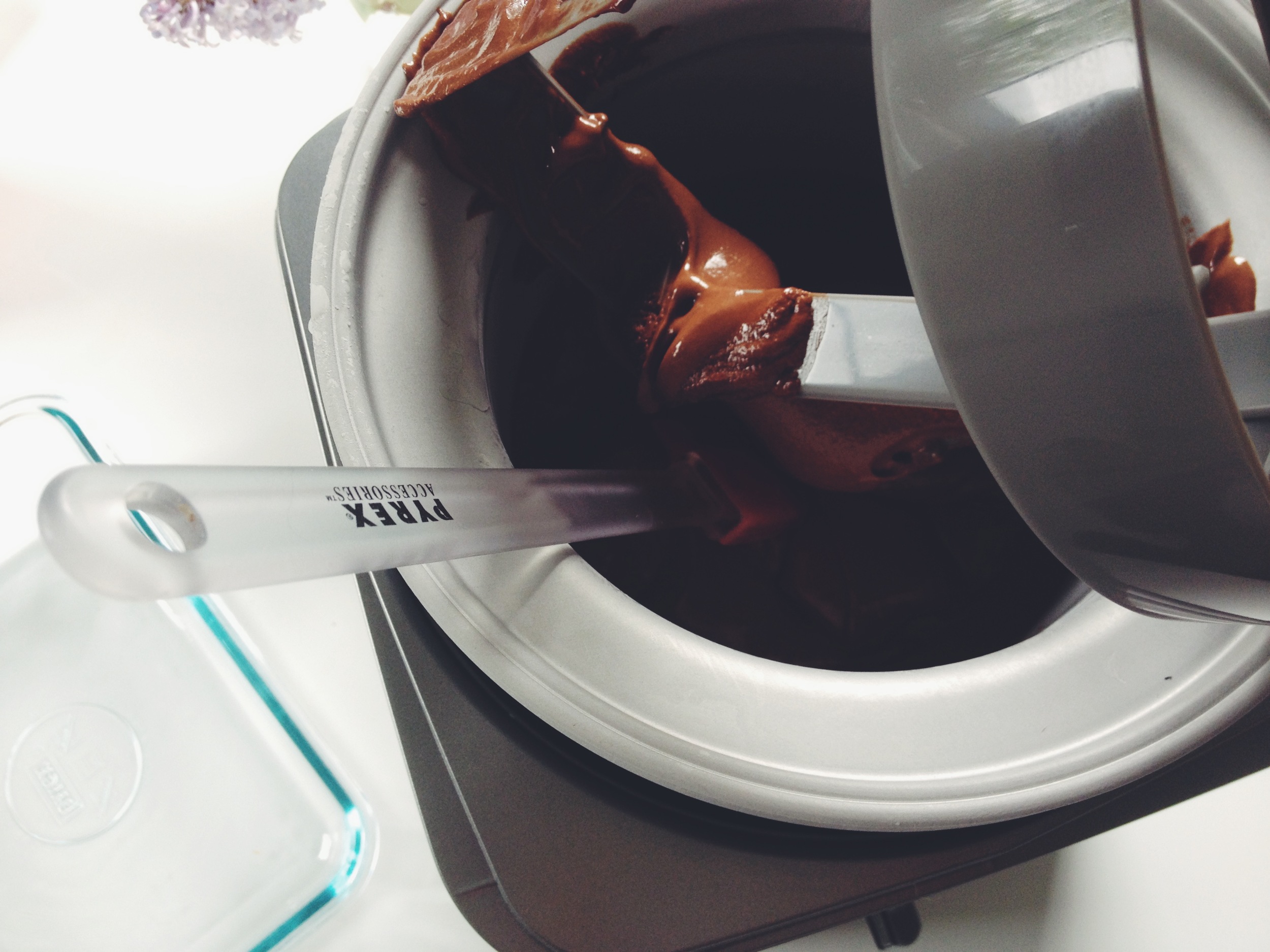 The Milkiest Chocolate Ice Cream in the World
Makes about a quart

You're gonna need...
1 cup of whole milk
1 tablespoon plus 1 teaspoon of cornstarch
2 ounces of bittersweet chocolate
1/4 cup of heavy cream
1 cup of evaporated milk
2/3 cup of sugar
2 tablespoons of light corn syrup
1/3 cup of unsweetened cocoa powder
1/4 teaspoon of fine sea salt

Mix about 2 tablespoons of the milk with the cornstarch in a small bowl to make a smooth slurry. Chop the chocolate and put it in a medium bowl. Fill a large bowl with ice and water.

Combine the remaining milk, the cream, evaporated milk, sugar, and corn syrup in a 4-quart saucepan, and bring to a rolling boil over medium-high heat. Add the cocoa powder, whisking until it's incorporated, and continue boiling for 4 minutes. Remove from the heat and gradually whisk in the cornstarch slurry. Bring mixture back to a boil over medium-high heat and cook, stirring with a heatproof spatula, until slightly thickened, about 1 minute. Remove from heat.

Gradually whisk the hot milk mixture into the chocolate. Add the salt and whisk until the chocolate is melted and incorporated. Pour the mixture into a 1-gallon Ziploc freezer bag and submerge the sealed bag in the ice bath. Let stand, adding more ice as necessary, until cold, about 30 minutes.

Pour the ice cream base into the frozen canister and spin until thick and creamy. Pack the ice cream into a storage container, press a sheet of parchment directly against the surface, and seal with an airtight lid. Freeze in the coldest part of your freezer until firm, about 4 hours.

Enjoy!